What do an old house, barbecue and a concert have in common? Our last Saturday of course. After a few month of struggling to find something more important than football to enjoy on a lovely fall Saturday, Rich and I found ourselves triple booked for a change.
First, it was Smithsonian museum day. The Juliette Gordon Low Birthplace was available for tour free of charge. Although I had volunteered there, I'd never had the opportunity to explore the house. It was amazing and definitely worth the cost of admission (even on days when its not free). The home is very well preserved with incredible furnishings. The home has a lot of character. Unlike some museum homes, you can visualize a family living there. The history and family stories add to the charm. Of course there were less glamorous facets just glazed over, such as servants and Juliette's divorce. I think the glazing makes me want to do my own research and discover the unofficial tour information. Overall though, it really was worth the time.
Next, we attended the flying pig barbecue festival where Rich was a "celebrity guest judge." The carnivore had three servings of meat without having to pause for fillers like side dishes. He methodically and seriously approached his task. His professionalism attempted to mask his opinions. Yet I knew his "meat" face, the moment he tasted the winner, even if he tried to keep it in check. Luckily the rain managed to hold off until after we'd left.
Finally, we got back in Doug and were on the road. The
Decemberists
were playing in Athens and we drove 4 hours to be there. Along the way, we stopped to do some junking (I love antique stores!). We were greeted by many unusual sites including my dad's place-- "
Grumpy's
Restaurant," a manatee shaped mailbox that was probably as tall as me, and billboards advertising "Free Guns." Only in Georgia...The scenery was nice as the landscapes starts to roll as you head north. I've
decided
, if I have to live in an old home in Georgia, I want to be in some small town or in the middle of nowhere. In Savannah, no one has much of a yard.
About an hour out of Athens, the sky opened and buckets of rain drenched the route. Driving conditions were scary. We thought of pulling over at the next gas station, but since we were in the middle of nowhere that plan failed.
Thankfully we arrived in Athens in one piece, but then had the chore of finding parking. Who's bright idea was it to schedule a concert in a hall near the stadium while
UGA
was home and playing a 7:00 game? Seriously, one garage was charging $40. When we stopped for dinner, it was pouring outside. Yet Georgia fans, armed with bulldog red ponchos were joyously marching onward. Who are these people?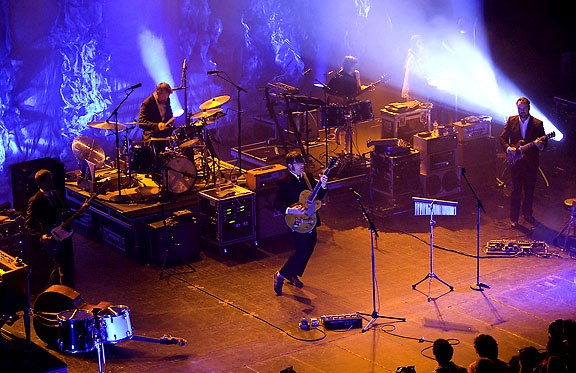 After all our trials, the concert was definitely worth the trip. The
Decemberists
are amazing. Their live performance and stage presence do not disappoint. I was impressed with the crowd they drew--there were many of the expected geeky-chic college students but also an assortment of middle-aged music lovers. They played
The Hazards of Love
from start to finish without a single pause. That takes talent and a really well-organized road crew. They then came back for a second set which found the crowd on their feet. They closed with an unexpected cover of Crazy on You which rocked.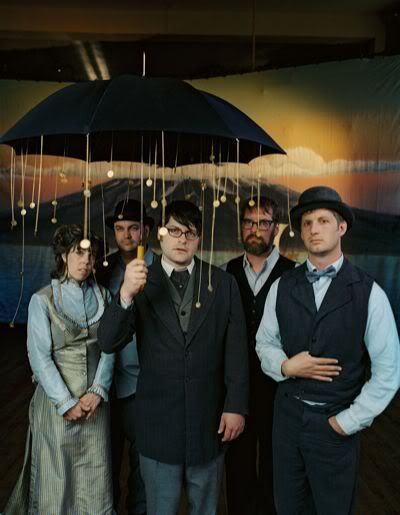 The four hour drive back to Savannah was definitely not the highlight of the day, but all and all, not a bad way to spend a Saturday.