For regular readers, you've probably noticed I've been a little absent lately. We've just had so much going on—more on that in another post. One of the million things happening is my parent's recent selling of their own house and purchase of a new house. My parents have lived in this house since before I was born and they have tons of treasures which need to be boxed up and moved.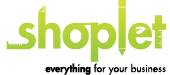 Even with the many moves we made from apartment to apartment in Savannah, I noticed how much "stuff" gathers in a short amount of time—and how much we typically weeded from our "stuff" collection with each move. My parents have 32 years of treasures subtracting zero moves. That means a whole whole lot of boxes.
You have no idea how elated I was to be approached by
Shoplet.com
to review
duck brand duct tapes
! Seriously, their timing could not have been better.
Shoplet
is an amazing online store that carries everything you could want for your office supply needs.
This weekend, I help my mother pack up the spare closets. We broke out some book boxes from job and I assembled them with the
Duck EZ Start Premium Packaging Tape
. The package I received contains 2 larger sized rolls with dispensers (60 yards) and an extra bonus roll (30 yards). In truth, in all my moves, we never used "Duck Tape Brand"
duct tape
. We always just bought some super cheap generic brand. I could instantly tell the difference. Duck brand is so much thicker and durable than the generic stuff. I used only one or two strips and really have no fear of the boxes opening.
The dispenser was super easy to use too. With the generic stuff, you don't usually get a dispenser—which means keeping track of a pair of scissors too. If you do get a dispenser, it doesn't usually work, or you spend so much time restarting the tape after each use. Not so with the Duck EZ Start Premium Packaging Tape dispensers. They have this unique feature that keeps your tape in place every time. What a time saver. The cut feature worked great too, and the tape didn't peel apart or tear. I genuinely love this product.
Next I tried out the
Duck EZ Start Premium Packaging Tape w/ Dispenser.
Measuring in at 55 yards, and with a much smaller core I was afraid I wouldn't find nearly as many uses for this roll. Of course, I soon discovered how wrong I could be. I loved that the smaller size made it easier for me to keep track of—in my large pockets sometimes. It was also faster to use and I could handle it with just one hand. The tape still maintained a high quality and the built in dispenser worked well. While I was afraid to use it on the big boxes, it was a perfect fit for the smaller ones. I also used small pieces to tape the edges of board games together and to bind bundles of miscellaneous junk.
The most exciting addition to the Duck Tape bundle I received was definitely the 10 yards of
Zebra printed Duck Tape
. I aspire to be a crafty genius, but sometimes lack the time. Never the less, I still marvel at all of the creative and crafty things I see my students do. My students love to top their pens with duct tape flowers, accessorize their crutches in cool duct tape wrappings, and even make wallets completely from the stuff (not like my dad who used to prolong the life of a faded wallet with duct tape repairs). Although I've never seen a duck tape dress personally, I know there's a contest out there for designing your prom ensemble from the stuff. I love that duck tape comes in so many colors and patterns, that this no longer sounds as hopelessly ridiculous as I once thought. I love that the duct tape is extra durable, water resistant, and so easy to use. I look forward to getting fun and crafty.
Many, many thanks to Shoplet.com for providing the awesome products for this review.
I received the products mentioned above in exchange for my fair and honest review of the products. I received no additional compensation. All opinions are 100% my own.