Oy! I have been doing a lot of reading lately, even if I haven't managed to post. I loved my kindle, and now the iPad... both provide me free and instant access to scores of library books. Even better, I'm now a fan of audiobooks---I listen to them on the iPad in the car or at home while washing the dishes at night... I feel like I can get twice as much done.
So here's a short rundown of a few of my latest reads.
Moon over Manifest
---a book probably better suited for the junior high/tween crowd. In essence, the main character lives during the Great Depression. She's sent to live with friends of her father in a small town as he seeks work. While there, she meets friends, has adventures and attempts to uncover secrets of the town's past. Grade: B
The Night Circus--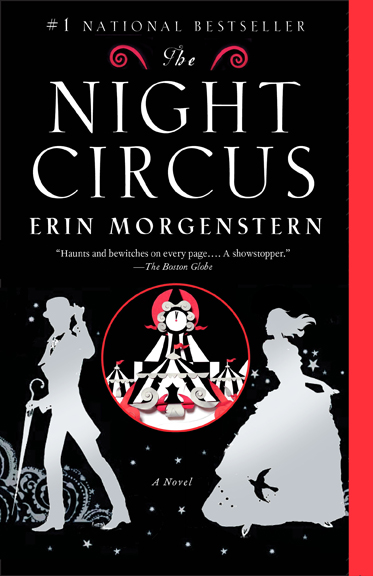 Several of my students really loved this one, but for me, it was just alright. Set near the turn of the century, the reader is invited into the world of an indescribable circus, which acts as the forum for two magical giants each attempting to outdo one another. However, like the circus, the story reveals itself in slow glimpses, which keep the reader puzzling to understand how it all fits together. And of course, what YA would be complete without an element of romance. While the payoff comes eventually, I really couldn't get behind this one. While otherwise well written, too frequent shifting makes it hard for the reader to connect to the ever changing cast of charecters. Grade: C+
Feed
This one actually is a class read for one of the classes in our school. That said, I was initially shocked by this selection--probably due to language. Futuristic dystopian literature in which each brain is wired to receive constant "computer like" feed. Walk in to a mall, and your mind is flooded with enfticing advertisements customized to your preferences. No need to converse at the dinner table, you can think and send a text messages. I can see why the teacher chose it; there are eerie parellels to the direction we as a society are headed; search engines already cater advertisements based on your search history. That said, I can see why students might struggle with this one. Dialog occurs in the futuristic vernacular of the author's creation; if you can't master the parlance, you really will be lost.
Grade: B+
Shiver/Linger/Forever
The Mercy Falls Series
This is the series I listened to as an audiobook. Well, having read
Twilight
(I know, I know), I can say, at least it's not
Twilight.
No sparkling vampires and werewolves; just werewolves this time. The teen depiction seems a little more realistic, even if no one seems to go to school, or be missed when not there. No decernable major typos every few pages--then again, I was listening rather than reading, so poor punctuation could have been a possibility. The language isn't as forced and doesn't feel like it was written by a high school student attempting to use those "SAT words" to make the teacher give her a good grade. That said, it is still high school sappy romantic drama depicting the mostly absent parents who just don't understand.
It's okay--and like I said, at least it's not Twillight. Still, it's hard not to draw parellels. The male interest also has that oh so dreamy poetic/musical soul, if he lacks "Adonis like features". The female lead is at least slightly logical and not nearly as flighty as Bella. In short, it was a great story to not have to pay complete attention to in order to follow the plot.
Grade: C
More to come.