As we prepared for Peanut's baptism, I knew there were two gifts that I wanted him to have.
The first was a wooden cross made by my great uncle.
Great Uncle Richard is my father's godfather.
My grandmother commissioned him to make a cross for me and my siblings for our first communion.
For familial reasons, this gift meant the world to me.
The other gift I wanted for my son was a children's bible.
I'm sure we probably looked at our children's bible many times, but for some reason I semi-remember the first time my mother read it to us. After dinner each night we'd wash dishes and then we'd read.
Before we started reading this one, she explained how it was a very special book.
She made a special ritual of washing our hands before we opened the book.
Then she read these kid versions of the bible.
I remember asking tons of questions because there were so many foreign concepts.
Needless to say, this experience left a strong impression on my young mind—and its an experience that I want for peanut.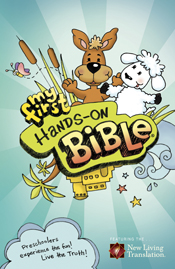 That said, I was very blessed to have the opportunity to review
My First Hands-On Bible
from
Tyndale House Publishers
.
Biblical stories are written in accessible language with plenty of colorful illustrations.
I like that the stories selected provide the biblical chapter and verse, because they are real Bible text from the New Living Translation.
The stories are also kept short for the limited preschool attention span.
As you read each story, you will notice hand-prints which correspond to mini-activities to guide making the story a "hands-on" experience. For example, in the story of Noah, one activity asks the child to make rain noises.
These small activities are perfect for keeping the attention of a preschooler—and in the case of our little guy, it's the sort of activity that allows him to let out some of that energy.
These would be perfect for preschool bible study classes.
Following each passage peanut is consistently greeted by two adorable characters.
Cuddles the lamb suggests three activities so your child can live the meaning.
Pockets the Kangaroo provides a short but special prayer that helps apply the biblical passage to your child's life.
In short, I was highly impressed with
My First Hands-On Bible.
There is not one thing I would change about it.
It is exactly the perfect bible I had been looking for to share with my son.
www.Tyndale.com
My First Hands-On Bible retails for $16.99
This is a MamaBuzz Media review. The product was provided by Tyndale House Publishers. I was provided this book free of charge in exchange for my honest opinion. I received no additional compensation for the content of this review. All opinions are 100% my own.
4everybuddy.com